The price of living has gone up over 24% since 2016, and people managing diabetes are facing even more financial hardships. 
Every day, diabetics depend on test strips, GCM devices, and other supplies to manage their blood sugar levels so they can lead a healthy life. 
The cost of these supplies add up fast, and unfortunately many patients are left with leftover devices in the event of having to switch brands, no longer test as often, or changing insurances.
To help you recoup some of your investment, we offer fast cash for test strips! Our simple process frees up some of your cabinet storage, offers you an easy pay day, and helps another diabetic get the tools they need. 
Cash for Diabetics has streamlined the process, so you can get paid ASAP. Here's an estimated timeline so you know exactly what to expect when selling your diabetic test strips to an online company.
Getting started
If you're looking up "how to get fast cash for test strips" on your phone or laptop, you're in the right place! We've curated an interactive guide to get you started: our instant buy-back tool. 
We understand that you likely have questions about what products we can accept, your payout, and how it all works, so we've laid it out in one convenient place (ending with a prepaid box getting shipped right to your doorstep).
If you're wondering if it's legal to sell diabetic supplies, the answer is yes. 
As long as your items are not provided by Medicare or Medicaid, as indicated by a bright orange sticker, it is 100% legal to get fast cash for test strips. If your supplies do have this label, it is illegal for you to sell your items to anyone as it is profiting off of government aid. 
Check your eligibility (5 minutes)
Not sure how to check your eligibility to sell diabetic supplies? We've got you covered! To ensure everyone's safety and satisfaction, we've made our rules clear. 
Before you get fast cash for test strips, start with our instant buy-back tool. With a few simple clicks, we'll let you know if you're eligible so you can determine your payout.
Simply tell us a bit about yourself and if you've sold to us before. 
Next, tell us what kind of product you'd like to sell: a box of test strips, a GCM device, or both. Upload some information about your product, including the brand, expiration date, condition, and quantity. Here, we'll also ask you to double check that there is no orange Medicare or Medicaid label before moving on. You can also upload a photo if you so choose! 
Once you've completed these steps, we'll ask you for your address so we can ship you a free kit. 
Request your free kit (1 minute)
To get your free kit, and streamline the process of getting fast cash for test strips, just provide your contact information! Let us know your full name, address, email/phone number, and the number of boxes you need. Our boxes are standard size, but don't hesitate to contact us if you're unsure how many boxes you need.
If you're selling Dexcom supplies, keep in mind that these larger items don't fit in our standard box. In this case, we offer a few alternatives. 
You can choose to simply cut out and reuse the label from our box and re-tape it to a USPS priority mail box or a box of your own. 

If you'd prefer, we can also mail or email you your prepaid label for you to attach yourself. Just let us know! 

No worries if you don't have spare boxes laying around; you can always acquire a free priority box at your local post office. 
Once you've filled out this form, you can expect to receive your prepaid box as soon as 1 to 3 business days. You're just a few steps away from locking in your fast cash for test strips!
Sending us your items (1 to 3 business days)
Upon receiving your free kit or shipping label, it's time to load up your items. Before getting started, remember to refer back to our pricing guidelines. Here, we break down every aspect of what goes into the final amount on your check.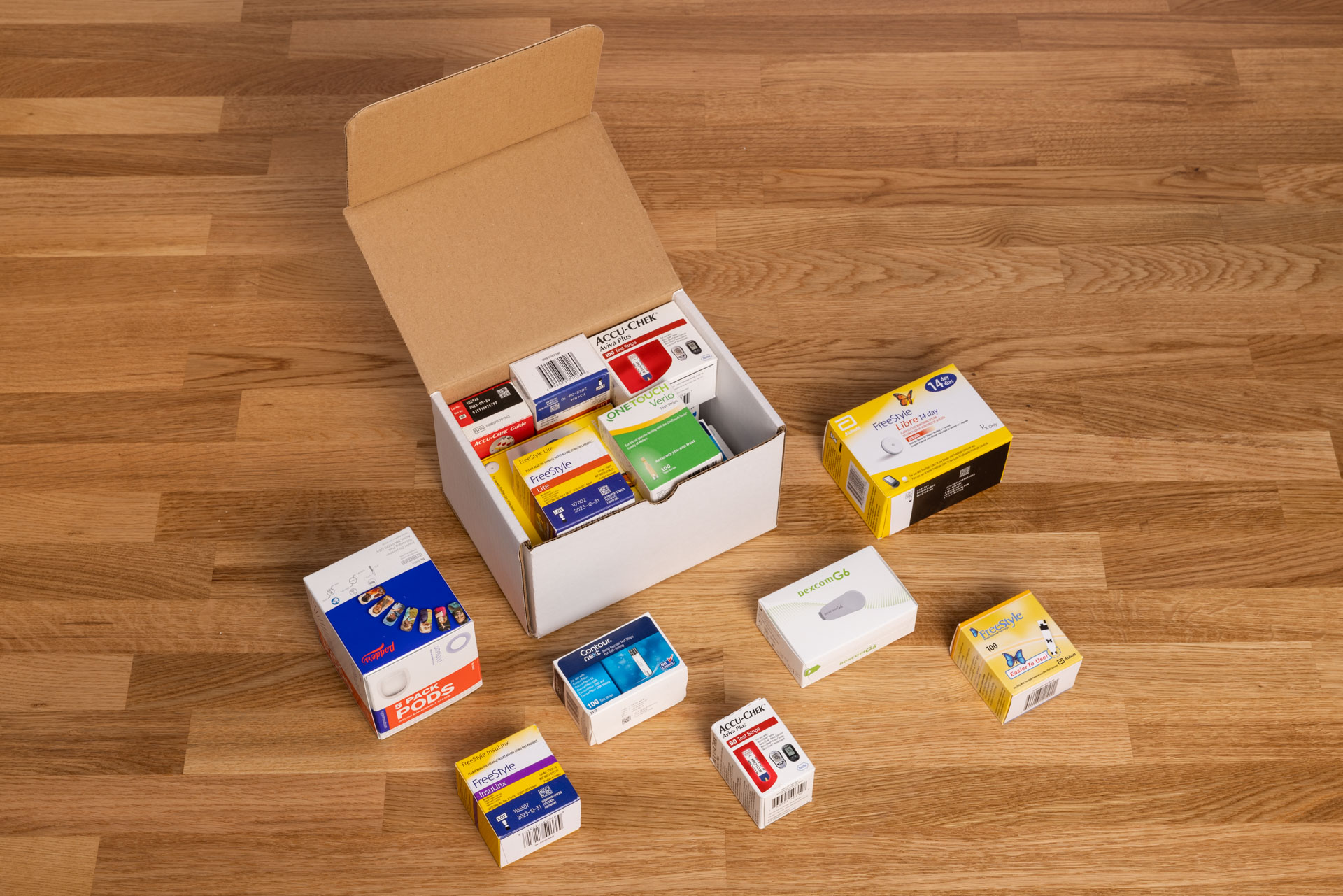 Scroll through our products list (or press "Command+F" to search for your product's name) and you'll find the rules regarding your specific items. 
Keep in mind that our offers reflect the current market demands, as controlled by big pharma. To maximize how much fast cash for test strips you receive, take note of the condition and expiration. 
Our pricing for test strips is based on the following:
Full payout: Mint condition and 10+ months away from their expiration date.

50% payout: Light/cosmetic damage and or 3-9 months away from their expiration date. 

No payout: Severe damage and or less than 3 months away from their expiration date.
In order to secure fast cash for test strips, all items must be sealed. If a seal is broken or if there is any leaking, we can not accept your items as a safety precaution. 
We also cannot accept items that expire in 3 or less months, as this does not provide enough time for proper inspection and to allow a new user to acquire and use them safely (as this can provide inaccurate test results and lead to severe health complications). 
Due to the condition of your box playing a role in your payout, we recommend that you do not attempt to remove any labels or stickers before sending your items to us. Our team will remove any personally identifying labels carefully to ensure the box remains intact. 
If you don't feel comfortable leaving your name on the packaging, feel free to use a magic marker to cross out that section of your label.
When you go to box up your items to ship to our warehouse, we recommend using tissue paper or newspaper to cushion them and ensure their safe arrival. You can snap a photo before sealing up the box if you wish for your own records; don't worry, we'll take our own as soon as we receive your items as well. 
Getting your check (2 to 8 business days)
Your items will typically arrive to us within a week, and we'll put them directly in line for inspection. After our team has gone through the same checklist we've provided to you, we'll determine your payout and write your check that same day! You can expect to receive your fast cash for test strips in the mail within the next 2 to 8 business days. 
We only offer fast cash for test strips in check form, and it's not just because we're old-fashioned. Your account's privacy is always a priority to us, as is our own, and we've found that avoiding online payments is the most secure option. 

Our experts are always seeking ways to improve, so we'll let you know if we plan on changing anything regarding your future payments. We recommend signing up for our newsletter to stay in the loop!
Want to do it all again? We can simplify the process for future shipments!
After customers realize how simple we've made getting fast cash for test strips, the majority of them opt for regularly scheduled shipments. This takes out half of the work for you; just let us know how often you'd like to sell to us (every other week, monthly, etc.) and we'll schedule out your prepaid box shipments. 
Not only will this cut down the timeline of getting paid, but also provides a more steady cash flow! 44% of Americans have some form of a "side hustle", a way to make more money outside of your full time job. With a process as easy as ours, it's no wonder 18% more people have opted into the side hustle lifestyle in the last 2 years alone.
Look no further than Cash for Diabetics for reliable fast cash for test strips and beyond
Cash for Diabetics is proud to be the nation's go-to diabetic test strip buyers, offering unmatched customer service for a smooth process all around. We're dedicated to making your experience getting fast cash for test strips direct, transparent, and easy, so we've curated a range of helpful tools to get you started!
Our instant buy-back tool will get you pointed in the right direction in minutes, so you can see exactly how much you'll be paid. After this step-by-step guide, we'll ship you a free kit. Simply pack up your items, return them, and we'll write your check as soon as we inspect your box. All together, you can expect to receive your check in just a couple of weeks after getting started and even less if you choose to become a regular seller!
Have questions? Our staff is always on standby; you can chat with us online, call us, or fill out our contact form to get in touch. We offer a range of additional resources to put your mind at ease, including our blog and FAQs. Your easiest payday yet is just a few clicks away!